"You Have Bewitched Me, Body and Soul, and I Love and Love and Love You."
Friday, 20 May 2011 @ 23:43
|
0 notes
Pride & Prejudice 2005.
If people have been attracted to this tale since 6 years ago, I've just started to love it lately. Since I was into such classic tales with kingdom theme.
I was in bookstore. Too afraid, I didn't want to take a P&P book from the upper heap. Squinting eyes looking up into small flaws on the surface of the books. I somewhat regretted myself for buying the translated one instead of the English, skipping the beauty of words by Jane Austen. My disappointment hadn't gone until I enjoyed reading on Elizabeth's point of view. Attractive--the power is in the words. Butt, the characters too much making themselves busy wandering from place to place, attending the balls... and gosh, their mouths are blabbering! Haha. Pointlessly talking so much.
But I do love Mr. Darcy. So much. He could be arrogant and conceit at first. But you know? "A man can change his manners, and a lady can change her mind." Poor Darcy. Is it that hard to confess a love? In the film Mr. Darcy has successfully mesmerized me.. he is a gentleman with eyes intensely staring at you like an eagle. I barely realized it that he actually has bright blue eyes when the rain scene.
Mr. Darcy:

Miss Elizabeth. I have struggled in vain and I can bear it no longer. These past months have been a torment. I came to Rosings with the single object of seeing you... I had to see you. I have fought against my better judgment, my family's expectations, the inferiority of your birth by rank and circumstance. All these things I am willing to put aside and ask you to end my agony.


Elizabeth Bennet:

I don't understand.


Mr. Darcy:

I love you. Most ardently. Please do me the honor of accepting my hand.
Labels: book, film, literature, love
Fashion Police on Wills-Kate's Big Day
Sunday, 1 May 2011 @ 11:34
|
0 notes
Quoted from
e!online
, Fashion Police: Best Dressed of the Royal Wedding: Tara Palmer-Tomkinson, Pippa Middleton, & Princess Beatrice.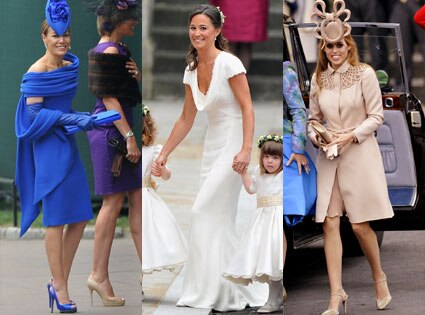 The Best Dressed April 29 Poll
For sheer flashbulb power, no other than this week could rival the royal wedding. So which of these guests gets the best-dressed crown?
Xenia says: Since I'm not really good at fashion, let me just speak up what's on my mind. Blue dress that's worn by English It-girl Tara Palmer was good with that scarf. Hmm, why did Pippa wear white? Quoted from e!online (again), the white maid-of-honor would seem like a ballsy break from tradition, but England does, apparently, have a tradition involving all-white bridal parties. Pippa's tan-skin matched the holiness that shone from the white dress she wore. But that's too plain, the other one who wore white than the bride itself.
Two cousins of William, Princess Eugene and Princess Beatrice.
Crazy royal hats were
on!
It's like seeing many Gaga(s) on a solemn wedding. Americans would find it kinda weird, but
UK actually has the best fashion-taste ever
. Note that! Less trashier, more classier. No one--even Hollywood actresses-could defeat the beauty of princesses. The two daughters of Sarah Ferguson looked stunning with their youngness touch of their dress that day. Bea wore a dusty pink, a belted-coat with nude t-strap heels. She kicked it! K, Princess Eugene was out of best-dressed nominations, so I gave the crown to the only
Princess Beatrice of York!
♛
Labels: fashion, royal wedding