Facts About Myself
Saturday, 14 February 2009 @ 09:39
|
0 notes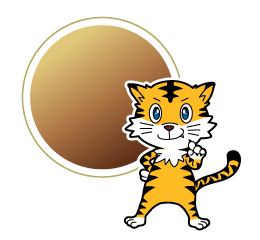 You are Brown Tiger, who get in touch with others with calm attitude.
You are both pure and friendly, and have the atmosphere of motherly tenderness.
Your character seem
flexible and gentle, but you are actually someone who has their own opinion, and do not like to lose.
You are not scared of things.
You can
steadily lead life to accomplish your goal.
You have the big sister sort of character.
People around you may push you to become their leader, but your sense of organizing people and action is not that strong.
You are confident, and can put to action with perseverance and guts.
You are
dedicated to many things.
You can
carry out things calmly and steadily at your own pace.
You
don't worry about things so much
, and possess the talent to combine many factors together to create a new thing.
You are well balanced person.
Nevertheless, you
possess feminine atmosphere and are dependent person.
You lack self-support, and therefore you will be good at working in the back-ground.
Men are attracted to your
mysterious atmosphere
, but you
tend to be very careful, and not fall in love too easily.
You are
weak on favors, and can not turn them down.
Once married, you will stay at home and be obsessed with children's education.
Wah,
hasilnya ternyata banyak yang sesuai sama gw. Kesannya
calm
tetapi menghanyutkan ya? Haha. Oh ya,
Doubutsu-Uranai
<<--I got this link from ghina's blog.
Labels: quiz
Breaking Dawn
Saturday, 7 February 2009 @ 11:59
|
3 notes
F-i-n-a-l-l-y I accomplished reading Breaking Dawn yesterday. My
judment:
I AM REALLY
DISA

PPOINTED
T__T. Arrgh, in Breaking Dawn, romance parts between Edward and Bella are just too slightly! Twilight saga is a
romantic
novel at the point, but Breaking Dawn is more about Bella's child and fighting
The Volturis
. Hey, it is like reading
Harry Potter
-
Twilight
version :| . There are some
boring
parts too. The fact that Breaking Dawn is the last book of Twilight series make me feel
unsatisfied
*fake smile* because nothing special in the ending.
Well,
I know there are some great parts too. I heart Edward and Bella's
wedding
part
:)
Unnoticed
Friday, 6 February 2009 @ 13:02
|
1 notes
FUCK.
When you arrived in your school and entered your class, but your close friends didn't even say hello or anything. What do you feel? In my opinion, everybody hate being ignored, rite? That's what I said in one of my previous posts. Gw yakin kok semua orang butuh perhatian. Bahkan orang yang pendiam sekalipun. Dia mungkin begitu karena engga ada yang ngajak ngomong atau nyapa duluan. Dan bukannya dia senengnya begitu. Jangan heran kalo orang kayak gitu bisa berubah 180 derajat pas ngomong sama temen-nya-yang-baik dan interestnya sama. Bisa aja itu cuma luar nya doang dia pendiem -.-
Okeh, sebenernya pembicaraan ini membawa kemana? Well, mendekati yang gw katakan tadi. Kalo berada dalam posisi di 'ignore', dalam hati pasti pengennya ngomong 'I hate everybody today'. Kalo udah dicuekin, kita cuma bisa diem. Sebenernya diem itu menyakitkan kalo elo tanya gw T__T. Perasaan lega bakal dateng kalo ada orang lain yang ngajak ngomong. Hmm.. gw buat perumpamaan dulu ya?
Seorang anak bernama Tatchy mempunyai teman yang bernama Tina dan Trixie. Tatchy adalah seorang anak yang cukup pendiam, tetapi tidak pendiam juga dengan temannya. Tina dan Trixie sangat dekat, bahkan mungkin lebih dekat dari Tatchy sendiri ke mereka. Lama-kelamaan Tatchy merasa dia diabaikan. Kesal sih, tapi dia memilih untuk diam. Tina dan Trixie malah makin mengabaikan Tatchy.
Nah, simpel aja sih itu. Masalah kayak gitu sepertinya banyak dialami orang-orang. Hell, itu terjadi pada gw. Walaupun alasan mereka diemin itu mungkin 'segan kalo ngajak ngomong gw', please lah.. gw malah engga butuh digituin. Mungkin mereka engga sadar, tapi gw diem karena mereka yang nyuekin gw. Dan selama mereka nyuekin gw, mereka kelihatan fine-fine aja. Leaving me, laughing when I was just sitting alone. Tidak ada penyesalan apa-apa dari wajah mereka. Seolah-olah mereka itu engga peduli. Itu yang membuat gw makin bete. Ngajak ngomong dikit kek or ngomong kek 'Xen, lo kenapa?'. Hell yeah, ini bukan yang pertama kalinya. Dan waktu itu gw yang akhirnya ngajak ngomong duluan. Waktu itu juga mereka bersikap seakan tidak terjadi apa-apa. Nah, it repeated, rite?
I wanna get attention too, i'm normal. Just gimme a little. Is that hard?
Tapi tabu bagi gw untuk mengemis perhatian. Sebut gw punya harga diri =))
Masa gw terus yang harus dateng ke mereka? Mereka mungkin juga ngomong, "Masa kita terus yang harus ngajak ngomong dia?". Gw masih saja menekankan, 'good friend' itu salah satunya adalah temen yang ngajak ngomong(atau seru-seruan kek) semua temennya, semuanya! bukan temennya yang satu itu aja. Mungkin gampang aja ya ngomong, "Yaa lo yang harus ngajak ngomong mereka duluan." shit. why. talking. is. so. easy.
Minimal ada yang minta maaf aja itu udah buat gw ngerasa enak..
Labels: closed