New Skin
Yeay, another new skin :D
it's dark. I luv it :-*
really identic with me.
my skin before was a hot-balloon air shade skin.
you've seen it rite?
Labels: daily
Award Homework
Dapet nih award dari
Wina
lho *apa sih gw* sebenernya males ngerjain =)) tapi yah sudahlah kerjain aja. Duh mata gw kucel karena capek, padahal masih sore. LOL.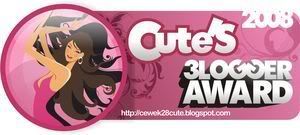 1) Put the logo on your blog.
2) Add the link to the person who awarded you.
3) Nominate at least 7 other blogs.
4) Add link to those blog on yours.
5) Leave your message for your nominees on their blogs.

I nominate~~
Arrum
,
Rachel
,
Rhea
,
Dhilla
, dan lain-lain yang merasa blog nya cute.
Labels: homework
Vrienden
Friends..
Long time ago,
it looked easy to get a friend. I mean, To get along with my friend. My flashback starts--
I was an elementary school student. They were nice to me. Too funny and I usually laugh with them. I was suited with them. No encumrance.
Then, the junior high school has started. Separated with my close elementary school mates. I realised that I have made a mistake. Mistake that could make me very desperate. And it proved. Sorry friends, but I don't really like to be ignored. Not just that, I bloody hate that. I became bloody untalkative. When everybody's talking in the class and i'm just sitting calmly on my chair, what should I do? I.. have.. no.. idea..
Maybe they can't realise it.
But it looked they don't even care about me. Couldn't help with my existence. Therefore, I really appreciate if someone calls my name if i'm just sitting alone on my chair. Really..
I feel alone. Tired.
and no one understands me.
When I don't say anything anymore, my friends don't even speak to me. I don't need respond like that. If she and she and she tries to talk to me, I really appreciate that. I became calm because they ignore me. Nothing else. A good friend is someone who bravely says 'sorry' to their friend. Not someone who's scared to say something to a calm friend and just leave them.
Hate them all.
Labels: closed
Pesantren Alam
Today is Wednesday, and I just got home from the place that called
'pesantren alam cigombong'.
Honestly, I didn't really enjoy that pesantren. Kind from its activity or everything related with that. Yeah, it's school's event.
On Monday, 5 January, 2009,
the students gathered in the school before. Beuh, I don't believe I was willing to pull my heavy trunk. After said testimony, we got to the bus and spent the trip. I spent the bus trip with calmly. Really, I don't like being in bus! Shakes can make me feel dizzy, and it proved kindly. I didn't even touch my snack -.- . Well, finally, We arrived at pesantren alam cigombong. It's not the first time I get there, yeah.
The activities went perfectly. Yeah, perfect. If you say that's sitting till your feet gone stiffed is cool, you're kind of insane. It was thing that happened with me if too long sit in the hall in that pesantren. Unfortunately, almost all of activities gotta done in the hall. Praying, performing, and bla-bla-bla.
I don't like to be ignored.
Ignored is one of several things that make me didn't enjoy my days in pesantren cigombong. Hmm, maybe that person will read this but wouldn't find the meaning of this.. so maybe that person will just ignore this too. Hahaha, skip, eh? As you wish.
Err, when someone else said that they didn't want to get home, I was just surprised. I really wanted get home, LOLs. Don't dub me as a homesick girl, I was just got bored of being there.
In the last day, I got sick so I didn't join outbond activity. My heart said, "Thank God." rofl. So, I spent my time in the teachers' bedroom, with Angga and Jundi, that were sick too. When suddenly Mrs Sri and Mrs Euis brought us to take a walk, just to see the outbond activity.
--when walking--
Mrs Sri: Ini nih adek-nya Anne *talking to Mrs Euis about me*
Mrs Euis: Anne, Anne yang mana ya? *holding my hand (because I was sick)*
Mrs Sri: Yang bule itu loh
Mrs Euis: Anne yang tinggal nya di belakang ya? *still chuckling*
Xenia: Hah? *getting shock*
I didn't really get what Mrs Euis said during walked or saw the outbond activity -.- . Okay, not really important. So, after EVERYTHING have been finished, we got to the bus and got home. The thing that I've so wanted.
Labels: daily
Nu Yeah
"Happy New Year."
It's been hours since I could hear fireworks noise fulfill the air. New year has came. We've left year 2008 and going to start every-new-things in 2009. Well, I think everybody have their own wishes in this new year. I want to share it in my blog. Don't like, don't
see
, don't give any comment, especially talk about it
behind
me.
My great wishes:
1. No more
annoying
people appear in front of me.
2. No people who
boasts
so much.
3. Get
stuffs
that I've wanted :P
4. School's not that
rude
.
5. Bad things will not happen to me,
and my entire family.
6. Getting
brilliant
and
smarter,
perhaps.
7. Everything's not going to be
complicated.
8. etc?
mood: not that good. don't ask why, thx.
Labels: daily